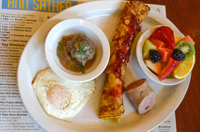 BREAKFAST SPECIALS
All egg dishes come with choice of two sides.
Swedish Breakfast Sampler* $15.45
One Swedish Pancake, One Swedish Meatball, Swedish Potato Sausage and One Egg (Any Style)
French Toast Fantasy $13.95
Mascarpone-Filled Cinnamon Rolls, Battered, Grilled and Topped with Granola and Fresh Seasonal Berries
Monte Cristo Breakfast* $15.45
Two Pieces of Our Homemade French Toast Topped with a Slice of Ham and Scrambled Eggs with Swiss Cheese, Served with a Side of Imported Lingonberries
Bacon Cheddar Potato Pancakes $14.45
Three Potato Filled Pancakes with Cheddar Cheese and Bacon Grilled Right Inside, Topped with Fresh Dill and Sour Cream
Ann's Darling $12.95
Hot Oatmeal with Rice Porridge and Granola Topped with Dried Apricots, Raisins, Cranberries and Pecans
Lumberjack Wrap* $14.45
Homemade Hash Browns in a Tortilla with Scrambled Eggs, Bacon, Cheddar and Swiss Cheeses
Turkey Gobbler Wrap* $15.45
Turkey, Spinach and Feta Cheese with Scrambled Egg Whites in a Whole Wheat Tortilla
Bagel Breakfast* $15.45
Plain or Multi-Grain Bagel Filled with Fluffy Scrambled Eggs, Cheddar Cheese and Your Choice of Bacon, Sausage or Ham
BREAKFAST SPECIALS ONLY AVAILABLE AT BROADWAY CAFÉ
Banana Pecan French Toast $12.95
Grilled Bananas Drizzled with Caramel and Surrounded with Fresh Berries, Served on Top of Our Pecan Encrusted French Toast
Two Egg Special $12.95
Two Eggs with Your Choice of Turkey Sausage or Swedish Meatballs, Served with Your Choice of Two Sides
SIDES
2 Cinnamon Rolls
1 Sweet Muffin
2 Biscuits and Honey
Toast and Jelly
Sliced Tomatoes
Apple Sauce
Seasonal Fresh Fruit Cup
Hash Browns (Add Cheese for $.50)
Low Fat Cottage Cheese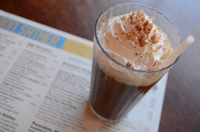 SPECIALTY DRINKS
Fresh Squeezed Strawberry, Orange, and Banana Juice $5.00
Hot Chocolate $4.25
Hot Swedish Coffee $4.25
LUNCH SPECIALS
Soup and Half a Cold Sandwich $11.95
Vegetarian Chili and Half a Cold Sandwich $12.75
Spinach Salad $12.75
Your Choice of Bacon or Sun-Dried Tomatoes
Turkey Club $13.00
Deluxe Garden Salad $8.75
Add Chicken Salad, Tuna Salad or Sliced Chicken Breast for $4.25
Add Soup or Salad to Any Lunch for Only $3.95
**Not available at our Granville location.
Please be advised that there is a $1.75 charge for any split order.
Ann Sather is BYOB. We have all the fixings for Bloody Marys and Mimosas.
Prices subject to change without notice.
* Consuming raw or undercooked meats, poultry, seafood,
shellfish or eggs may increase your risk of foodborne illness.
Web Design by MS Communication Design